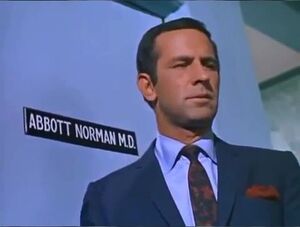 Doctor consulted by Maxwell Smart after learning that he has swallowed a delayed-action poison expected to kill him within hours. Dissatisfied with dancing Dr. Steel's prognosis he declares that he will "find another doctor - a real doctor - one with funny legs" but Dr. Norman (and at least one other) only confirm the inevitable.
Portrayed by John Hoyt [Uncredited voice, Episode #72: "Classification: Dead"].
Reality Check: The character name is an obvious play on the name of the episode's director, Norman Abbott.
Ad blocker interference detected!
Wikia is a free-to-use site that makes money from advertising. We have a modified experience for viewers using ad blockers

Wikia is not accessible if you've made further modifications. Remove the custom ad blocker rule(s) and the page will load as expected.