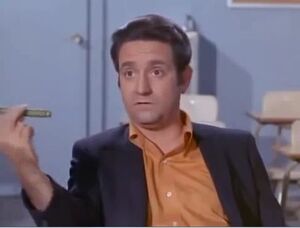 When Maxwell Smart, acting as a substitute teacher at the CONTROL Training School, learns that Lundy and Caruso are the only two students at risk of not graduating - because their grades are alarming in disarming and they're failing in tailing - he sets them the assignment of tailing Agent 99 on a pre-wedding shopping spree.
Portrayed by Vic Grecco [Episode #93: "A Tale of Two Tails"].
Ad blocker interference detected!
Wikia is a free-to-use site that makes money from advertising. We have a modified experience for viewers using ad blockers

Wikia is not accessible if you've made further modifications. Remove the custom ad blocker rule(s) and the page will load as expected.