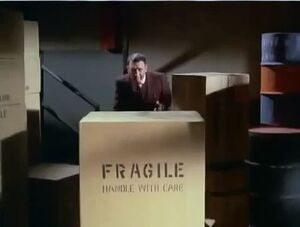 CONTROL agent who attends the 1966 strike meeting of spy union the Guild of Surviving CONTROL Agents (GSCA) disguised as a lamp [Episode #32: "Strike While the Agent is Hot"].
Agent 74 is later sent by the Chief to assist Max and 99 at a KAOS warehouse where smuggled art treasures are discovered. There he is shot by a KAOS agent.
Portrayed by Marc London [Episode #55: "How to Succeed in the Spy Business Without Really Trying"].
Ad blocker interference detected!
Wikia is a free-to-use site that makes money from advertising. We have a modified experience for viewers using ad blockers

Wikia is not accessible if you've made further modifications. Remove the custom ad blocker rule(s) and the page will load as expected.