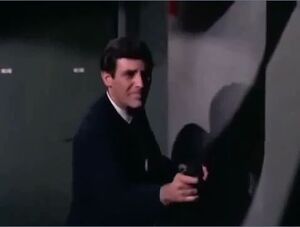 Newly recruited CONTROL agent.
On his first assignment Agent 91 is to assist Max and 99 in protecting the brilliant scientist Dr. Alonzo Shotwire but he is knocked out and his place taken by the then-KAOS robot Hymie.
Portrayed by Bruce Gibson [Episode #19: "Back to the Old Drawing Board"].
Ad blocker interference detected!
Wikia is a free-to-use site that makes money from advertising. We have a modified experience for viewers using ad blockers

Wikia is not accessible if you've made further modifications. Remove the custom ad blocker rule(s) and the page will load as expected.