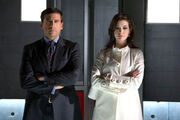 Anne Jacqueline Hathaway (born November 12, 1982) is an American actress who played Agent 99 in the 2008 Get Smart movie. After several stage roles, she appeared in the 1999 television series Get Real. She played Mia Thermopolis in The Princess Diaries (2001). Over the next three years, Hathaway reprised that role for The Princess Diaries 2: Royal Engagement, and starred in family films, appearing as the title character in Ella Enchanted (both 2004).
Hathaway had dramatic roles in Havoc and Brokeback Mountain (both 2005). She starred in The Devil Wears Prada (2006) and appeared in Becoming Jane (2007) as Jane Austen. In 2008, she was acclaimed for her lead role in Rachel Getting Married, for which she won awards and was nominated for the Academy Award for Best Actress. In 2010, she starred in the box office hits Valentine's Day and Tim Burton's Alice In Wonderland.
People magazine named her one of its breakthrough stars of 2001,1 and she first appeared on its list of the world's 50 Most Beautiful People in 2006.2
Ad blocker interference detected!
Wikia is a free-to-use site that makes money from advertising. We have a modified experience for viewers using ad blockers

Wikia is not accessible if you've made further modifications. Remove the custom ad blocker rule(s) and the page will load as expected.