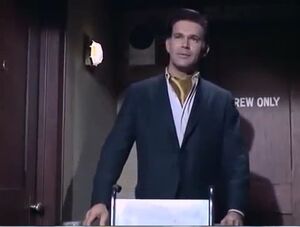 Passenger aboard the freighter Evening Star, a crippled Portugese polo player who, as Maxwell Smart discovers, "is not a cripple, not Portugese and probably not a polo player" but a Polish freelance spy in pursuit of the plans of the nuclear amphibian battleship - the same plans that Max is trying to recover.
Portrayed by Paul Lukather [Episodes #27 and 28: "Ship of Spies, Part 1" and "Ship of Spies, Part 2"].
Ad blocker interference detected!
Wikia is a free-to-use site that makes money from advertising. We have a modified experience for viewers using ad blockers

Wikia is not accessible if you've made further modifications. Remove the custom ad blocker rule(s) and the page will load as expected.