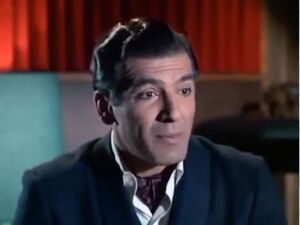 Spanish KAOS agent who poses as a playboy while operating as a saboteur under the nom de guerre of "The Blaster".
Portrayed by Edmund Hashim [Episode #34: "The Only Way to Die"].
Reality Check: The first two names pay obvious homage to the Brazilian musician Antonio Carlos Jobim while the "Carioca" was a popular song and dance, as well as a reference to the people of Rio de Janeiro.
Ad blocker interference detected!
Wikia is a free-to-use site that makes money from advertising. We have a modified experience for viewers using ad blockers

Wikia is not accessible if you've made further modifications. Remove the custom ad blocker rule(s) and the page will load as expected.