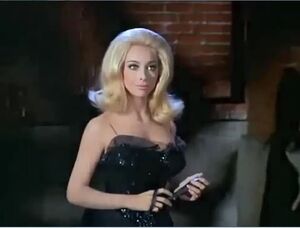 CONTROL agent operating out of CONTROL West.
Watkins is a disguise expert who makes himself up to look like a beautiful woman.
He is first seen posing as a cigarette girl at a gambling establishment in Las Vegas, where he saves Maxwell Smart's life [Episode #52: "Smart Fit the Battle of Jericho"] and is later assigned to work as a "pussycat" at Frank Valentine's Pussycat Club in Washington [Episode #57: "Pussycats Galore"].
Portrayed in both appearances by Angelique.
Ad blocker interference detected!
Wikia is a free-to-use site that makes money from advertising. We have a modified experience for viewers using ad blockers

Wikia is not accessible if you've made further modifications. Remove the custom ad blocker rule(s) and the page will load as expected.