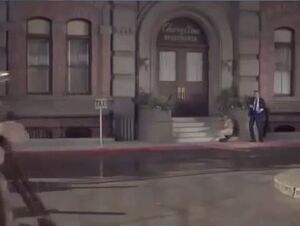 Apartment building [Episode #47: "Someone Down Here Hates Me"] located six blocks from the State Department [Episode #76: "The Little Black Book, Part 1"] where Maxwell Smart and, after their marriage, Agent 99 reside.
Their apartment is #86 (matching Max's agent number) despite being only one floor above ground level.
Other residents of the building at various times have been Mrs. Dawson [Episode #8: "The Day Smart Turned Chicken"], the Chief's niece Phoebe [Episode #31: "Anatomy of a Lover"]and Emil & Naomi Farkas [Episode #97: "The Farkas Fracas"].
The landlady is Mrs. Macklin [Episode #62: "Witness for the Persecution"].
Ad blocker interference detected!
Wikia is a free-to-use site that makes money from advertising. We have a modified experience for viewers using ad blockers

Wikia is not accessible if you've made further modifications. Remove the custom ad blocker rule(s) and the page will load as expected.