Homing device sewn into the left shoulder of a man's suit coat.
The unit is activated by patting the shoulder which presses the button on the device, and deactivated the same way.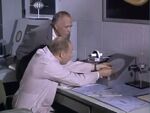 The signal is monitored on a screen in the CONTROL lab, letting headquarters know where the agent is at all times.
Supplied by Professor Parker [Episode #15: "Survival of the Fattest"].