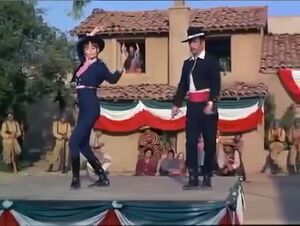 Pair of flamenco dancers scheduled to appear at a variety show for General Diablo Pajarito, the ruthless dictator of San Saludos.
Conchita and Conchata are inadvertently killed when they drink poisoned lemonade intended for CONTROL agents Maxwell Smart and 99, who subsequently take their places at the performance.
[Episode #61: "Viva Smart".]
Ad blocker interference detected!
Wikia is a free-to-use site that makes money from advertising. We have a modified experience for viewers using ad blockers

Wikia is not accessible if you've made further modifications. Remove the custom ad blocker rule(s) and the page will load as expected.