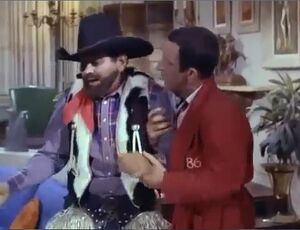 Descriptive term applied to an unnamed agent who shows up at Maxwell Smart's apartment one night dressed as such. He pretends to die and come back to life and seems to disappear and reappear as part of a plot to put Max's sanity in question at an upcoming court hearing where Max is due to testify against KAOS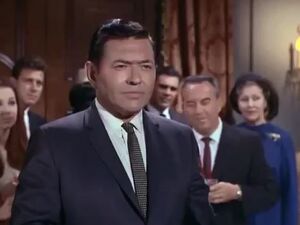 The same man (in plain dress) attends a party at the Morovian Embassy in Washington where Max has been tricked into going dressed in a chicken outfit, and testifies against him as a witness at the hearing. Max eventually deduces that the man is a KAOS agent but never seems to recognise him as the "cowboy".
Portrayed by Simon Oakland [Episode #8: "The Day Smart Turned Chicken"].
Ad blocker interference detected!
Wikia is a free-to-use site that makes money from advertising. We have a modified experience for viewers using ad blockers

Wikia is not accessible if you've made further modifications. Remove the custom ad blocker rule(s) and the page will load as expected.