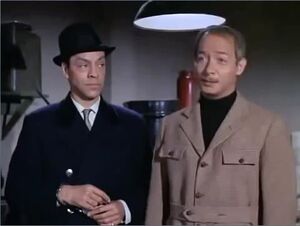 Top KAOS assassin whom Maxwell Smart decides to capture to exchange for the Chief who has been kidnapped by Siegfried, rather than give in to his blackmailing demands. According to Agent 99, when she tries to talk Max out of his mission, Danker has killed nineteen CONTROL agents while evading capture, and is "tricky and shows no mercy". Max goes anyway, and while trying to capture Danker at the warehouse serving as his hideout, finds out that everything 99 has said about the assassin is true. Danker also has a number of weapons at his disposal, including a shooter concealed in a briefcase, and is not only adept at knife throwing, but also can improvise as well, as when he menaces Max at one point with an electric blowtorch. Despite all this, Max succeeds in capturing him, and thus sets off a chain of tit-for-tat kidnappings.
Portrayed by James Lanphier [Episode #33: "A Spy for a Spy"].
Ad blocker interference detected!
Wikia is a free-to-use site that makes money from advertising. We have a modified experience for viewers using ad blockers

Wikia is not accessible if you've made further modifications. Remove the custom ad blocker rule(s) and the page will load as expected.