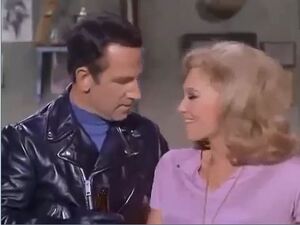 Member of the Purple Knights motorcycle gang.
Despite being gang leader Brute's moll, Doll Baby finds herself attracted to newcomer Wheels, actually an undercover Maxwell Smart, and eventually helps Max and Agent 99 to escape from Brute's clutches.
Portrayed by Susan Albert [Episode #71: "The Mild Ones".]
Ad blocker interference detected!
Wikia is a free-to-use site that makes money from advertising. We have a modified experience for viewers using ad blockers

Wikia is not accessible if you've made further modifications. Remove the custom ad blocker rule(s) and the page will load as expected.