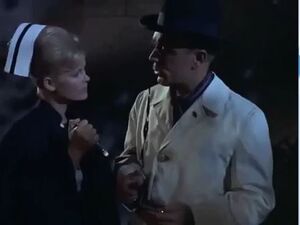 Brilliant European surgeon called in by Harvey Satan of KAOS to perform a revolutionary operation on the kidnapped Chief of CONTROL which will turn him into Satan's willing slave.
Max takes von Havoc's place in order to infiltrate Satan's lair, Satan Place Sanitorium, and finds himself in the position of having to operate on the Chief himself.
[Uncredited, Episode #9: "Satan Place".]
Ad blocker interference detected!
Wikia is a free-to-use site that makes money from advertising. We have a modified experience for viewers using ad blockers

Wikia is not accessible if you've made further modifications. Remove the custom ad blocker rule(s) and the page will load as expected.