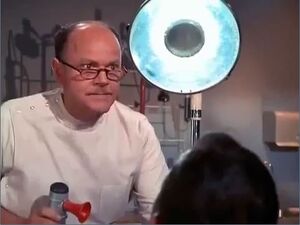 Physician who has devised a technique of instant spray-on plastic surgery.
Dr. Proctor is consulted by Maxwell Smart when Max unwittingly allows himself to be photographed by a newspaper resulting in his identity as a secret agent being exposed.
After a couple of false starts, during which Max resembles first the actor Martin Landau and then the comedienne Phyllis Diller, he finally emerges with an appearance that enables him to complete his mission of infiltrating KAOS headquarters in New Jersey and rescuing Professor Phineas Pheasant who is being held captive there.
Portrayed by Ned Wertimer [Episode #113: "Pheasant Under Glass"].
Ad blocker interference detected!
Wikia is a free-to-use site that makes money from advertising. We have a modified experience for viewers using ad blockers

Wikia is not accessible if you've made further modifications. Remove the custom ad blocker rule(s) and the page will load as expected.