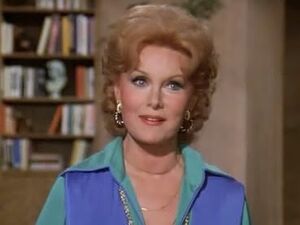 Fashion designer who lives in a chalet in the Austrian Alps, undeterred by the fact that she is unable to obtain avalanche insurance.
Edith Von Secondberg is the former wife of Nino Salvatori Sebastiani who is suspected of being the infamous "Nude Bomber" threatening to destroy the world's clothing.
Portrayed by Rhonda Fleming [Movie: "The Nude Bomb"].
Reality Check: The character name refers to the fashion designer Diane von Furstenberg.