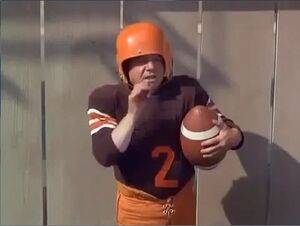 Diminutive KAOS agent seen disguised as a little boy wearing a football uniform to deliver stolen information encoded in the ball's laces.
Note that the name El Lobo-Ito appears in the credits but is not used in the episode itself.
Portrayed by Billy Curtis [Episode #62: "Witness for the Persecution"].
Ad blocker interference detected!
Wikia is a free-to-use site that makes money from advertising. We have a modified experience for viewers using ad blockers

Wikia is not accessible if you've made further modifications. Remove the custom ad blocker rule(s) and the page will load as expected.