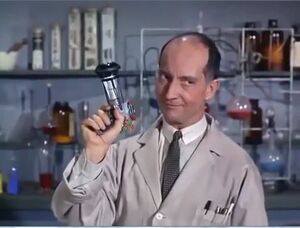 Device invented by Professor Windish whose ray renders its victims incapable of thinking beyond the level of an eight-year-old.
A spy for KAOS steals the gun and shoots the Chief and Windish with it. She attempts to shoot 6 of the world's greatest scientists with it, but is foiled by Smart.
[Episode #7: "KAOS in CONTROL".]
Ad blocker interference detected!
Wikia is a free-to-use site that makes money from advertising. We have a modified experience for viewers using ad blockers

Wikia is not accessible if you've made further modifications. Remove the custom ad blocker rule(s) and the page will load as expected.