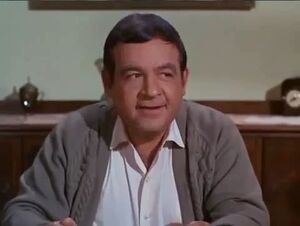 KAOS agent, husband of Naomi Farkas.
Emil is constantly critical of Naomi's cooking and housekeeping skills (or lack thereof) and is scornful of their job "sitting around this crummy apartment listening in on a couple of CONTROL agents" - Max and 99 to whom they have moved next door.
In return, Naomi derides him as "mighty prince of unemployment", saying that without her brother, KAOS district manager Arnold Borgia, they wouldn't even have that.
Portrayed by Tom Bosley [Episode #97: "The Farkas Fracas"].