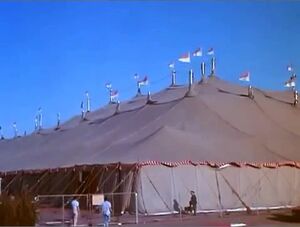 Traveling show used as cover for a diamond smuggling operation by a ring of KAOS agents led by press agent Pepper Hanlon.
Performers at the Farnum and Daley Circus include knife-thrower Raymond the Magnificent and half-man/half-woman Gertrude-Gerald who are also KAOS agents, as well as strongman Hondo and midget Tiny Allen.
The circus mascot is a chimpanzee named Rudolph.
[Episode #40: "The Greatest Spy on Earth".]
Reality Check: The name parodies the Ringling Bros. and Barnum & Bailey Circus.
Ad blocker interference detected!
Wikia is a free-to-use site that makes money from advertising. We have a modified experience for viewers using ad blockers

Wikia is not accessible if you've made further modifications. Remove the custom ad blocker rule(s) and the page will load as expected.