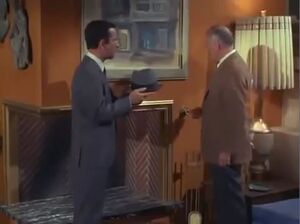 Fan installed in the fireplace in Maxwell Smart's apartment.
When an adjacent knob is pulled out anyone standing in front of the fireplace will have their weapon sucked up the chimney, disarming them.
Max is especially proud of this device, having taken months to "make it perfect".
[Episode #5: "Now You See Him, Now You Don't".]
Ad blocker interference detected!
Wikia is a free-to-use site that makes money from advertising. We have a modified experience for viewers using ad blockers

Wikia is not accessible if you've made further modifications. Remove the custom ad blocker rule(s) and the page will load as expected.