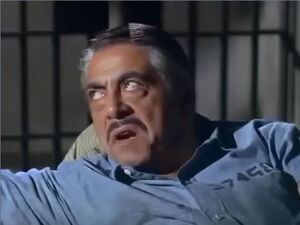 Convicted murderer encountered by Maxwell Smart when Franco is being transported to Joliet Prison in Illinois.
A sleeping Franco unwittingly becomes the carrier of a tooth cap containing vital microfilm when Max needs to temporarily dispose of it when he becomes aware that he is being followed by KAOS agents.
Realizing too late that Franco is a prisoner, Max must find a way to get himself arrested so he can get into the prison, into Franco's cell and "into his mouth".
Portrayed by Robert Strauss [Episode #44: "The Whole Tooth and..."].
Ad blocker interference detected!
Wikia is a free-to-use site that makes money from advertising. We have a modified experience for viewers using ad blockers

Wikia is not accessible if you've made further modifications. Remove the custom ad blocker rule(s) and the page will load as expected.