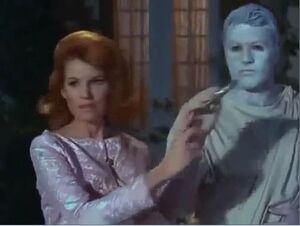 KAOS agent disguised as a statue in Kinsey Krispin's garden. Positioned behind Krispin's estranged wife Amanda, he is able to snatch her gun from her thus thwarting her plan to gain possession of the vital Krispin Papers.
[Uncredited, Episode #86: "The Reluctant Redhead".]
Ad blocker interference detected!
Wikia is a free-to-use site that makes money from advertising. We have a modified experience for viewers using ad blockers

Wikia is not accessible if you've made further modifications. Remove the custom ad blocker rule(s) and the page will load as expected.