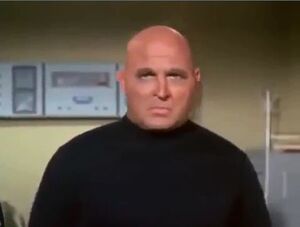 KAOS robot dubbed "the ultimate weapon".
Groppo is designed by Hymie's creator Dr. Ratton to be powerful enough to destroy Hymie but his first assignment is to kill Dr. Ratton himself.
Portrayed by H. B. Haggerty [Uncredited, Episode #68: "When Good Fellows Get Together"].
Ad blocker interference detected!
Wikia is a free-to-use site that makes money from advertising. We have a modified experience for viewers using ad blockers

Wikia is not accessible if you've made further modifications. Remove the custom ad blocker rule(s) and the page will load as expected.