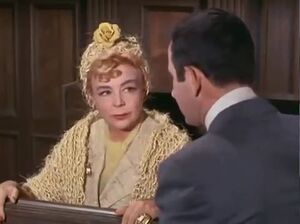 Resident of the apartment across the hall from that of Maxwell Smart.
The relationship between the two neighbors has apparently been somewhat strained and matters are not helped when Max is tricked into knocking on Mrs. Dawson's door in the middle of the night looking for a non-existent Dr. Fish as part of a plot to put Max's sanity in question at an upcoming court hearing where Max is due to testify against KAOS.
Called as a witness to the hearing and asked how long they have been neighbors she replies "too long". Asked to be more specific, she elaborates, "ten years too long".
Evidently, they do not reach eleven years because some ten months after that incident her apartment is being occupied by Phoebe during the latter's visit to Washington. (Phoebe is The Chief's niece.)
Portrayed by Iris Adrian [Episode #8: "The Day Smart Turned Chicken"].