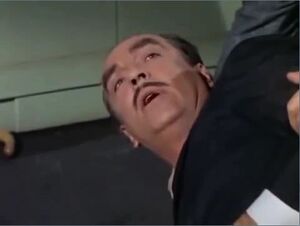 Agent of International CONTROL, Armenian branch, who is Maxwell Smart's contact aboard the freighter Evening Star during Max's search for the stolen plans of the nuclear amphibian battleship.
Unfortunately, Sehokian is killed before he can do more than pass on the enigmatic clue that the plans are "not plans".
Portrayed by Jan Arvan [Episodes #27 and 28: "Ship of Spies, Part 1" and "Ship of Spies, Part 2"].
Ad blocker interference detected!
Wikia is a free-to-use site that makes money from advertising. We have a modified experience for viewers using ad blockers

Wikia is not accessible if you've made further modifications. Remove the custom ad blocker rule(s) and the page will load as expected.