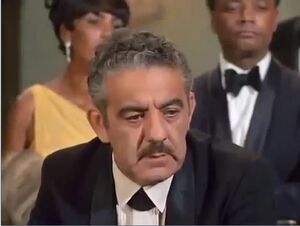 Canadian uranium mining magnate who loses £5,000,000 at Royal's Casino.
Casino owner Victor Royal forces him to sign over the deeds to his mines as payment, and then feeds him to the piranha fish to prevent him calling the police.
Portrayed by Alfred Dennis [Episode #79: "99 Loses CONTROL"].
Ad blocker interference detected!
Wikia is a free-to-use site that makes money from advertising. We have a modified experience for viewers using ad blockers

Wikia is not accessible if you've made further modifications. Remove the custom ad blocker rule(s) and the page will load as expected.