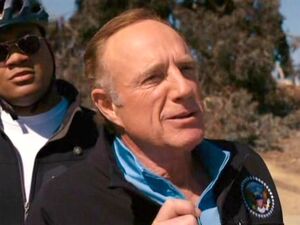 James Caan is a actor who appears in both the original
Get Smart
TV series and the 2008
reboot movie
.
He first portrayed Rupert of Rathskeller in Episodes #106 & 107: "To Sire, With Love", Parts 1 and 2. As Caan was then an up-and-coming movie star who did not wish to be associated with the "lesser" medium of television he was credited as "Himself".
He went on to appear in The Godfather (1972), for which he was nominated for an Academy Award, and its first sequel (1974).
In the 2008 Get Smart movie James Caan played the president.
Ad blocker interference detected!
Wikia is a free-to-use site that makes money from advertising. We have a modified experience for viewers using ad blockers

Wikia is not accessible if you've made further modifications. Remove the custom ad blocker rule(s) and the page will load as expected.