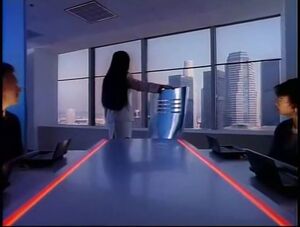 Leader of the revitalized KAOS of the nineties.
Rebranding the organization as the Kaos Corporation, the Chairwoman acknowledges losing the Cold War but vows to win the next war with a stated goal of "total world economic domination".
Portrayed by Marcia Mitzman in four Get Smart (1995) episodes:
Ad blocker interference detected!
Wikia is a free-to-use site that makes money from advertising. We have a modified experience for viewers using ad blockers

Wikia is not accessible if you've made further modifications. Remove the custom ad blocker rule(s) and the page will load as expected.