"Karvelas" redirects here. For the same-named actor see "Robert Karvelas".
---
CONTROL agent and disguise expert.
An agent named Karvelas is seen twice. Given his mastery of disguise it seems logical to conclude that they are the same person.
He is seen: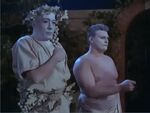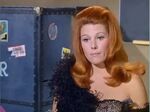 As a chorus girl at the Golden Rooster Follies Theater, presumably guarding Dr. Simon's lab which is hidden at that location. In this role, now identified as Agent 38, he is Maxwell Smart's sixth choice to be Best Man at his wedding. Max calls him "Harry"; in character he is called "Kitty". Shortly after agreeing to Max's request, "pretty Kitty" was kidnapped during a performance in full view of the audience by a group of men and was believed to be en route to the harem of Arab potentate Abdul Lububdul Amir. According to information recorded on a blackboard by 99, Karvelas was 29 years old, been with CONTROL for 3 years and wore shoe size 13. [Portrayed by Karen Arthur [Episode #92: "The Worst Best Man".]
Karvelas is later made old by Dorian Gray paint being applied to his ID photo by CONTROL lab photographer Felix. [Mentioned, Episode #123: "Age Before Duty".]
Ad blocker interference detected!
Wikia is a free-to-use site that makes money from advertising. We have a modified experience for viewers using ad blockers

Wikia is not accessible if you've made further modifications. Remove the custom ad blocker rule(s) and the page will load as expected.