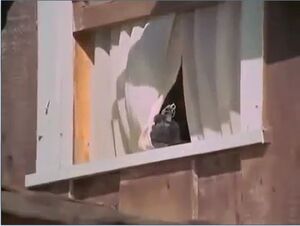 Notorious KAOS agent who holes up in a house "down around South Poplar Street" and refuses to come out even when the Chief says "please".
When Maxwell Smart emerges into the open after searching the house, Kleinschmitt shoots him in the posterior. As Max falls to the ground, he gets off a wild shot from his gun, shooting Kleinschmitt's gun from his hand and so ending the siege.
[Uncredited hand/Uncredited voice, Episode #110: "Greer Window".]
Ad blocker interference detected!
Wikia is a free-to-use site that makes money from advertising. We have a modified experience for viewers using ad blockers

Wikia is not accessible if you've made further modifications. Remove the custom ad blocker rule(s) and the page will load as expected.