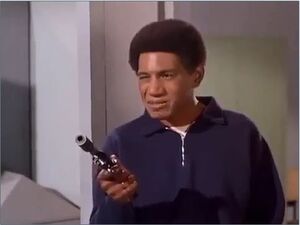 Ex-KAOS agent who forms his own third spy network ACB - "Atrocities, Cruelties & Brutalities".
After quitting KAOS when he was refused a promotion and being rejected by CONTROL Kubacheck vows to destroy both sides.
He is a ping pong fanatic and has repeatedly used plastic surgery to alter his appearance.
His last known identity is that of CONTROL recruit Samuels. As Samuels, he obtains an assignment assisting Maxwell Smart and 99 in their effort to track down Kubacheck. Max is to pose as The Masked Marvel, the one player who has beaten Kubacheck at ping pong, in a world exhibition tour with 99 has his playing partner and "Samuels" as his trainer in an attempt to smoke Kubacheck out.
Samuels is finally exposed as Kubacheck and is dispatched with a well-placed exploding ping pong ball.
Portrayed by Stu Gilliam [Episode #85: "Die, Spy"].
Ad blocker interference detected!
Wikia is a free-to-use site that makes money from advertising. We have a modified experience for viewers using ad blockers

Wikia is not accessible if you've made further modifications. Remove the custom ad blocker rule(s) and the page will load as expected.