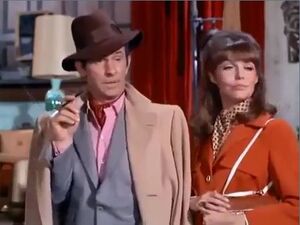 "You've never heard of Hollywood and Vine?" - 'Lawrence Hollywood'.
Cover name used by Maxwell Smart when posing as an actor to join a theater group run by director Victor Polo.
[Episode #101: "Hurray for Hollywood".]
Reality Check: 'Lawrence' claims to be the son of acting greats Jason Hollywood and Leonora Vine. "Hollywood and Vine" is actually a famous street intersection in Hollywood and the center of the Hollywood Walk of Fame.