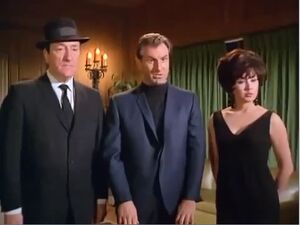 Personal secretary to KAOS executive Ludwig von Siegfried.
Portrayed by Martha Salcido [Uncredited, Episode #55: "How to Succeed in the Spy Business Without Really Trying"].
Note: An undercover KAOS agent who resembles Lili is seen on at least two occasions - disguised as one of Prince Abou Ben Boobie's wives [Episode #51: "The Man from YENTA"] and as a nurse [Episode #60: "A Man Called Smart, Part 3"] - and it is tempting to think that they are all the same woman.
Ad blocker interference detected!
Wikia is a free-to-use site that makes money from advertising. We have a modified experience for viewers using ad blockers

Wikia is not accessible if you've made further modifications. Remove the custom ad blocker rule(s) and the page will load as expected.