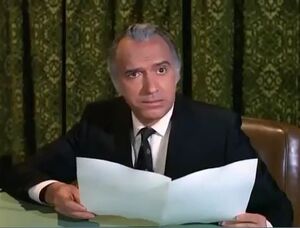 KAOS agent who agrees to pay traitorous CONTROL lab photographer Felix $100,000 to destroy CONTROL by murdering its agents by retouching their ID photos with the magical Dorian Gray paint he has developed.
Felix also requests a plane ticket to Miami so he can go into hiding once the job is completed. However, Lucheck offers him one to Cuba instead saying, "Cuba we can get you to. Miami we can't guarantee".
Portrayed by Harry Basch [Episode #123: "Age Before Duty"].
Ad blocker interference detected!
Wikia is a free-to-use site that makes money from advertising. We have a modified experience for viewers using ad blockers

Wikia is not accessible if you've made further modifications. Remove the custom ad blocker rule(s) and the page will load as expected.