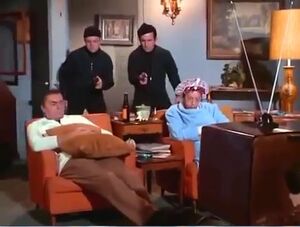 One-half of a couple whose residence at 111 M Street is mistakenly broken into by Maxwell Smart and Sid Krimm when Max reads the address of the headquarters of KAOS assassin the Maestro - W. 111th St. - upside down.
Mae and her companion, presumably her husband, are remarkably unperturbed by the incident, the latter simply commenting, "I'm tellin' ya, Mae. We gotta move outta this neighborhood."
Portrayed by Rose Michtom [Uncredited, Episode #77: "The Little Black Book, Part 2. The role of Mae's husband is an uncredited cameo by Ernest Borgnine].
Ad blocker interference detected!
Wikia is a free-to-use site that makes money from advertising. We have a modified experience for viewers using ad blockers

Wikia is not accessible if you've made further modifications. Remove the custom ad blocker rule(s) and the page will load as expected.