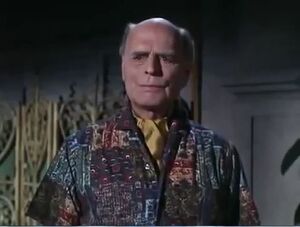 "That's very clever, Mr. Conrad. You named the hotel the Towarna Conrad after yourself." - 99.
KAOS agent and owner of the hotel Towarna Conrad on the island of Towarna.
Conrad murders British intelligence officer Colonel Roger Forsythe and a number of KAOS agents who were planning to defect to him.
Portrayed by Antony Eustrel [Episode #38: "Hoo Done It"].
Reality Check: "Milton Conrad" parodies hotelier Conrad Hilton, founder of the chain of eponymous establishments.
Ad blocker interference detected!
Wikia is a free-to-use site that makes money from advertising. We have a modified experience for viewers using ad blockers

Wikia is not accessible if you've made further modifications. Remove the custom ad blocker rule(s) and the page will load as expected.