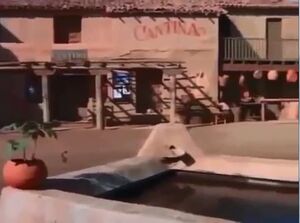 Mexican village which is believed to be the location of the coveted Tequila Mockingbird.
Although plague-free for four months, Mira Loma appears largely deserted. As Chief of Police Ignacio Valdez explains, "there is not much opportunity for young people so they are born here, they are raised here, then they go off to the big city...North Mira Loma, two miles up the road."
Mira Loma, Mexico should not be confused with Mira Lodo, Mexico.
[Episode #103: "Tequila Mockingbird".]
Ad blocker interference detected!
Wikia is a free-to-use site that makes money from advertising. We have a modified experience for viewers using ad blockers

Wikia is not accessible if you've made further modifications. Remove the custom ad blocker rule(s) and the page will load as expected.