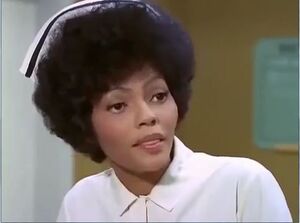 Nurse working in Admittance at the hospital where 99 gives birth.
To Nurse Hoskins falls the pleasant task of announcing the arrival of the twins.
Note that while the name "Miss Hoskins" appears in the credits, she identifies herself as "Nurse Hoskins" in episode #120.
Portrayed by Ella Edwards [Episodes #120: "And Baby Makes Four, conclusion" & #121: "Physician Impossible"].
Ad blocker interference detected!
Wikia is a free-to-use site that makes money from advertising. We have a modified experience for viewers using ad blockers

Wikia is not accessible if you've made further modifications. Remove the custom ad blocker rule(s) and the page will load as expected.