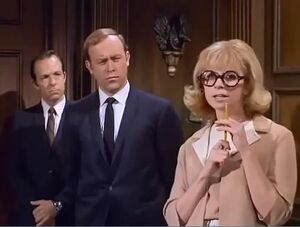 Secretary and research assistant to Weeknews magazine writer Mr. Fitzmaurice.
Miss Magruder is secretly a KAOS agent who has spent two years gaining Mr. Fitzmaurice's confidence. It is at her suggestion that he does a feature story on CONTROL. She then orders "Operation Ridiculous" - a plan for her and her henchmen to make them look foolish so that "Mr. Fitzmaurice will write the kind of feature article that will put CONTROL permanently out of business."
When she is finally exposed, Mr. Fitzmaurice fires her "without severance pay".
Portrayed by Patti Gilbert [Episode #81: "Operation Ridiculous"].
Ad blocker interference detected!
Wikia is a free-to-use site that makes money from advertising. We have a modified experience for viewers using ad blockers

Wikia is not accessible if you've made further modifications. Remove the custom ad blocker rule(s) and the page will load as expected.