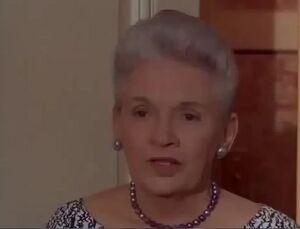 Next-door neighbor of the CONTROL Training School.
Mrs. Green initially appears genial; seemingly happy to provide directions to the spy school to anyone who comes to her door by mistake.
However, she becomes irate when hand-thrown weaponry disguised as headgear continually flies over the fence and crashes into her house, prompting her to declare, "I've warned you people long enough! This time you don't get the hat back!"
Portrayed by Kitty Kelly [Episode #3: "School Days"].