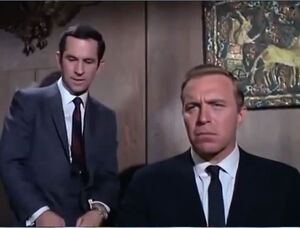 KAOS agent captured by CONTROL at Washington airport trying to enter the Untied States using diplomatic credentials.
Nealis was carrying a metal object which Professor Parker determined was part of some larger machine.
Although the nature of the machine remained a mystery, clever questioning by Maxwell Smart tricked Nealis into revealing not only the exact number of parts but also that the KAOS meeting place was on Blue Mist Mountain.
Portrayed by Lew Gallo [Episode #24: "Stakeout on Blue Mist Mountain"].
Ad blocker interference detected!
Wikia is a free-to-use site that makes money from advertising. We have a modified experience for viewers using ad blockers

Wikia is not accessible if you've made further modifications. Remove the custom ad blocker rule(s) and the page will load as expected.