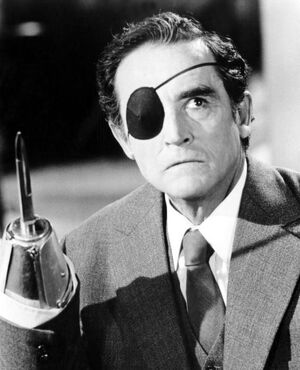 Scientist and former husband of fashion designer Edith Von Secondberg.
Sebastiani sports interchangeable prosthetic weapons (including a flame thrower) in place of his right arm which he lost - along with an eye, arm, leg, his larynx and a turkey (it was Thanksgiving) - in a laboratory explosion while working on what becomes known as the Nude Bomb, a device capable of destroying all clothing.
Under Sebastiani's direction, KAOS demands ten billion dollars a month from the United Nations or they will detonate the bomb, making the world nude, before he is killed by his own clone, Norman Saint Sauvage, who has his own plans for the bomb.
Portrayed by Vittorio Gassman [Movie: "The Nude Bomb"].
Ad blocker interference detected!
Wikia is a free-to-use site that makes money from advertising. We have a modified experience for viewers using ad blockers

Wikia is not accessible if you've made further modifications. Remove the custom ad blocker rule(s) and the page will load as expected.