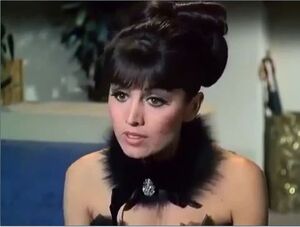 Waitress who works at Frank Valentine's Pussycat Club in Washington, D.C.
Wearing her revealing pussycat costume, Courtney comes to Maxwell Smart's apartment to tell him that missing Austrian scientist Dr. Herbert von Solo had visited the club on the night he disappeared, leading to suspicions about a kidnapping operation centered there.
Courtney is herself kidnapped by KAOS shortly thereafter but is later rescued and reported to be "in fine shape".
Portrayed by Jean Marie [Episode #57: "Pussycats Galore"].