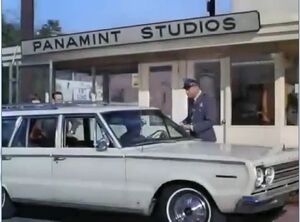 Hollywood movie studio where Otto Hurrah is a powerful producer and T. B. Orlando is employed in an unknown capacity.
Clues lead Max and 99 to the studio when they investigate the theft of Formula 6076767.
[Episode #60: "A Man Called Smart, Part 3".]
Reality Check: The name refers to Paramount Pictures where Get Smart was being filmed.
Ad blocker interference detected!
Wikia is a free-to-use site that makes money from advertising. We have a modified experience for viewers using ad blockers

Wikia is not accessible if you've made further modifications. Remove the custom ad blocker rule(s) and the page will load as expected.