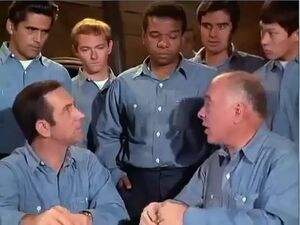 CONTROL agent captured by KAOS and held prisoner at Camp Gitchie Goomee Noonee Wa-wa.
Although of African-American appearance, it is claimed that prior to an encounter with the camp's electric fence Penwick "was white".
Portrayed by Victor Bozeman [Episode #112: "The Not-So-Great Escape, Part 2".]
Ad blocker interference detected!
Wikia is a free-to-use site that makes money from advertising. We have a modified experience for viewers using ad blockers

Wikia is not accessible if you've made further modifications. Remove the custom ad blocker rule(s) and the page will load as expected.