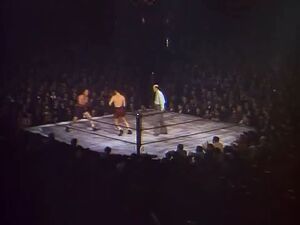 Boxer who is CONTROL agent "Tiger" Schlermer's opponent in a match at Davis Arena when Maxwell Smart asks Schlermer to be his best man.
[Uncredited, Episode #92: "The Worst Best Man".]
Reality Check: Pete "the Kid" Melnick, Melnik the Smiling Killer, Melnick Archer and the Melnick Uranium Mines are all named after Dan Melnick, a partner with Leonard Stern and David Susskind in Talent Associates, whose idea it was originally to produce a TV show satirising the spy craze.
Ad blocker interference detected!
Wikia is a free-to-use site that makes money from advertising. We have a modified experience for viewers using ad blockers

Wikia is not accessible if you've made further modifications. Remove the custom ad blocker rule(s) and the page will load as expected.