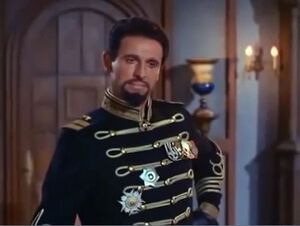 Prime Minister of Caronia and half-brother to King Charles.
Basil colludes with KAOS to have his brother killed so that he can take over the throne. When the assassination attempt fails he orders the kidnapping of CONTROL Agent 99 in order to exchange her for the King's whereabouts.
Unfortunately for Basil, Maxwell Smart arrives to rescue 99 and Basil meets his end at the end of Max's sword. His fatal error? Not the assassination attempt or the kidnapping. He makes Max angry by making unflattering comments about Max's legs.
Portrayed by Michael Forest [Episode #74: "The King Lives?"].
Ad blocker interference detected!
Wikia is a free-to-use site that makes money from advertising. We have a modified experience for viewers using ad blockers

Wikia is not accessible if you've made further modifications. Remove the custom ad blocker rule(s) and the page will load as expected.