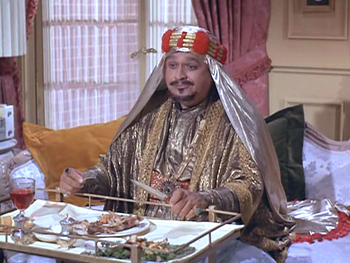 Rotund ruler of Ramat, an Arabian country whose budget is funded by a weigh-in ceremony where his followers give him his weight in gold.
Sully is kidnapped by KAOS agent Mary "Jack" Armstrong who forces him to exercise in order to slim him down below the 300 lb limit whereupon a rival faction unfriendly to the United States will take over the country.
Portrayed by Dan Seymour [Episode #15: "Survival of the Fattest"].
Ad blocker interference detected!
Wikia is a free-to-use site that makes money from advertising. We have a modified experience for viewers using ad blockers

Wikia is not accessible if you've made further modifications. Remove the custom ad blocker rule(s) and the page will load as expected.